SIGLENT Release the new SDS6000A oscilloscope

Date: 2021-10-13

Views:
2313

SIGLENT presents a new flagship 2 GHz oscilloscope and continues to expand advanced product capabilities.

Ever higher switching and signal frequencies in modern devices lead to growing demands on measurement technology. The right bandwidth of the measuring device is a basic requirement for the accurate measurement of these signals. A low-noise input stage and a high sampling rate are important to ensure high signal integrity. The new oscilloscope series SDS6000A from Siglent addresses these requirements. The operating concept is well thought out and intuitive enabling measurements to be configured quickly and increases efficiency in the laboratory.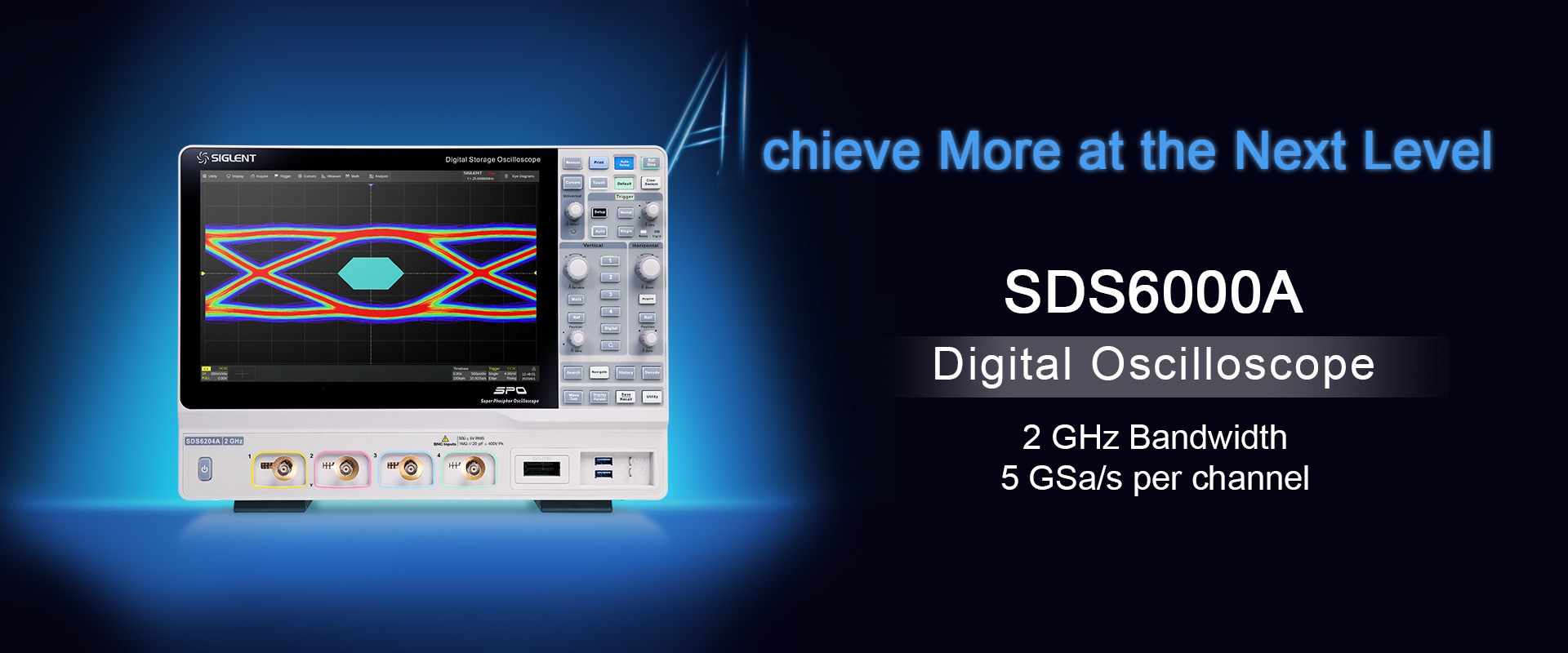 Oct 13, 2021:
SIGLENT Technologies introduces another new performance line instrument. The SDS6000A series are available with a maximum bandwidth of 2 GHz. In addition to the higher bandwidth, the device offers 5 GS/s per channel and and interpolation technique ESR (Enhanced Sample Rate) is implemented for equivalent sample rates up-to 10 GS/s per channel, which significantly improves the quality of the acquired signals.

The device has consistently been optimized to deliver a high level of signal integrity. The newly designed input stage delivers great performance (SFDR > 45 dBc, channel-to-channel isolation up to 70 dB, DC amplifier accuracy +/- 1.5%). This means that even the smallest signals on the lowest vertical range (500 µVdiv) can be captured precisely. Furthermore, the implemented HiRES (High Resolution) functionality improves the vertical resolution from 8 bits to up-to 16 bits and enhances the signal acquisition accuracy.

The oscilloscope is available in 500 MHz, 1 GHz and 2 GHz bandwidths. The acquisition memory has a maximum size of 500 Mpts and is distributed over 1, 2 or 4 channels. The waveform capture rate can reach up to 750,000 waveforms / s in sequence mode. Together with the digital trigger and extensive trigger types, rare events can be isolated quickly and efficiently. The zone trigger offers enhanced flexibility by delivering two user-defined zones that can be positioned individually and used in inclusive or exclusive modes. For deep insights the acquired signals can be zoomed in both the X and Y directions.

The analysis can be carried out using many implemented measurement functions and a formula editor and four mathematical curves. As with all Siglent oscilloscopes, the "history" function, mask test, Bode plot and a bundle of serial bus decoders (I2C, SPI, UART, CAN, LIN) are implemented as standard in this series. The SDS6000A can optionally be expanded by 16 digital channels and an external function generator (25 MHz). Additional serial bus decoders (CAN-FD, FlexRay, MIL1553, I2S, SENT, Manchester) are also available.

Two new functions are eye diagrams and jitter analysis. Available for the first time on a Siglent oscilloscope. Both functions support the engineer in the analysis and optimization of digital data signals.

The large 12-inch touchscreen (1280x800) offers enough space so that several signals can be displayed at the same time but clearly. The short-cut menu helps with configuration and offers quick access to the most important functions. The device supports external mouse and keyboard and can be controlled from the PC via the web interface. An external monitor can be connected via HDMI. An optional micro SD card offers plenty of space to save the recorded data. The bandwidth can be expanded via software so that the oscilloscope can grow with the expanding Engineering requirements, securing your initial investment.
This feature-rich product reinforces SIGLENTs commitment to continuous development and improvement and there is more to come. The SDS6000A is the second member of the "A-Line" launched in 2021 and we have several more devices planned for launch in the next 15 months.
Further device details can be found under
https://www.siglenteu.com/digital-oscilloscopes/sds6000a/




About:
SIGLENT TECHNOLOGIES started in 2002 with the development of their first oscilloscope. Now, the portfolio has rapidly expanded to cover many areas of general purpose test instrumentation, including oscilloscopes, signal and function generators, digital multimeters, lab power supplies, electronic DC-Loads, spectrum analyzers, VNAs and RF-signal generators.
With the A-Line introduced in 2021, Siglent is advancing further into the field of professional applications. Today SIGLENT TECHNOLOGIES is a global leader producing electronic test and measurement equipment that combines innovative features and functionality with a strong commitment to quality and performance. SIGLENT is ISO 9001:2000 and ISO 14001:2004 certified for its product quality and environmental management programs.